Helping Auto Accident Victims Injured by Negligent Truck Drivers in Ontario & Surrounding Areas
Commercial motor vehicle traffic is heavy throughout Southern California, particularly around the Inland Empire which acts as a major hub for truck drivers and the companies that employ them. As a result, our Ontario truck accident lawyers know that truck accidents occur with alarming frequency in this region. According to the California Highway Patrol (CHP), there are more than 7,200 total trucks statewide, causing around 360 deaths and 10,000 injuries to victims. Almost 40 individuals lost their lives in San Bernardino County alone, while another 880 were hurt in collisions involving semis, 18-wheelers, and other large trucks.
The losses for victims and their families can be devastating, so it is reassuring to know that California laws allow you to seek compensation after a truck accident. However, these cases are much more complicated than other auto crashes in many ways. You put your rights at risk by attempting to represent yourself, so trust our Ontario Truck Accident Lawyers at Caruso Law Offices, P.C. to tackle the legal challenges. We have more than 30 years of experience in truck collision claims and more than $30 million recovered for victims since 2016, and vehicle crashes are our firm's primary focus. Please contact us to schedule a complimentary case assessment, though some general information is also helpful.
Common Causes of Truck Crashes in Ontario, CA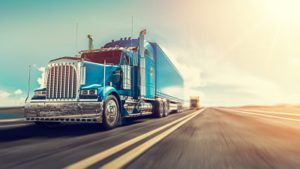 Motor vehicle accidents typically happen because of driver negligence, and truck collisions are no exception. Many are caused by the same carelessness that is present in other vehicle crashes, such as speeding, failure to yield, distracted driving, and running red lights. However, some forms of negligence that are unique to truck accidents include:
Speeding through curves with a heavy load;
Failing to proper secure and balance cargo on the trailer;
Defects in manufacturing parts, equipment, and safety technology on the tractor and/or trailer;
Negligent hiring and training;
Noncompliance with Hours of Service (HOS) regulations intended to protect against drowsy driving by truck operators.
Extreme Dangers of Truck Collisions
Any crash can lead to serious injuries and devastating losses, but the implications of a truck accident are far more severe. One key factor is the size differential between a large semi and passenger vehicle; a truck can outweigh a car by up to 10 times. Plus, the cargo an 18-wheeler is hauling adds weight and may even include hazardous materials. Together, these and other considerations spell severe, catastrophic injuries for victims. Call our Ontario truck accident lawyers at Caruso Law Offices, P.C. if you or a loved one suffered:
Traumatic brain injury (TBI), concussion, or other head injuries;
Neck, back, or spinal cord trauma;
Harm to internal organs;
Soft tissue injuries, such as whiplash and bulging or herniated spinal discs;
Bone fractures;
Amputation; or
Cuts, scrapes and bruises.
Recovering Compensation for Your Losses
At Caruso Law Offices, P.C., it is our goal to seek the full amount of monetary damages available under California law for your truck accident losses. We start by filing an insurance claim, since many of these cases settle out of court. If the insurer refuses to pay a fair amount, our team will take the next step by filing a lawsuit in court.
Our Ontario truck collision lawyers are knowledgeable in developing strategies to overcome some of the challenges that frequently arise. For instance:
Treatment of severe, catastrophic injuries and permanent disability leads victims' medical costs to skyrocket. Long-term consequences could lead to significant health care expenses for many years or a lifetime.
Truckers are required to carry higher levels of insurance to cover the tragic losses stemming from collisions. Insurers assign these claims to their most experienced employees, whose job it is to find reasons to deny your claim.
Besides the driver and insurance company, there can be many other parties to pursue for their negligent acts. In a truck crash case, you may need to sue the employer, a parts manufacturer, the owner of the rig, a shipping company, logistics crew, and any organization that played a role in the collision – plus, the insurers that cover each of these entities.
Contact Our Ontario Truck Accident Attorneys Now
The above information is useful as an overview, but it takes in-depth knowledge and extensive experience to enforce your rights after a truck crash. It is important to realize that 18 wheeler crashes are not like other types of motor vehicle accident cases. You need an experienced legal team to help you with these types of cases. Our team at Caruso Law Offices, P.C. will aggressively pursue all potential parties to ensure you get the compensation you deserve. Please call (909) 937-4480 or visit our website to set up a free consultation with an Ontario truck accident lawyer. After reviewing your circumstances, we can advise you on what to expect.
Caruso Law Offices, P.C.
337 N Vineyard Ave Suite 400
Ontario, CA 91764
Tel: (909) 937-4480