Helping You Recover After an 18-Wheeler Wreck: Albuquerque Trucking Accident Lawyers
Commercial trucking accidents are severe and often result in catastrophic personal injuries, lost wages, and medical bills. These are often damages for a lifetime. They are also damages which can affect an entire family. When a negligent truck driver of an 18-wheeler causes a crash on I-40, I-25 or I-10 in New Mexico, they are travel at a high rate of speed. That means high momentum and a powerful force upon impact. Many people do not make it out of these crashes alive, and those that do are often left with permanent, life-changing injuries. Unfortunately, our Albuquerque trucking accident lawyers at the Caruso Law Offices, P.C. know that these devastating injuries are often avoidable with the proper exercise of care that far too many truck drivers and trucking companies do not use.
And this happens more than most people may realize. According to statistics from the Federal Motor Carrier Safety Administration (FMCSA), each year in the United States large trucks and buses are involved in roughly 5,200 fatal crashes, 127,000 injury crashes, and another 414,000 property-damage only crashes. More locally, statistics from the New Mexico Department of Transportation reveal that each year there are almost 3,000 trucking accidents in the Land of Enchantment.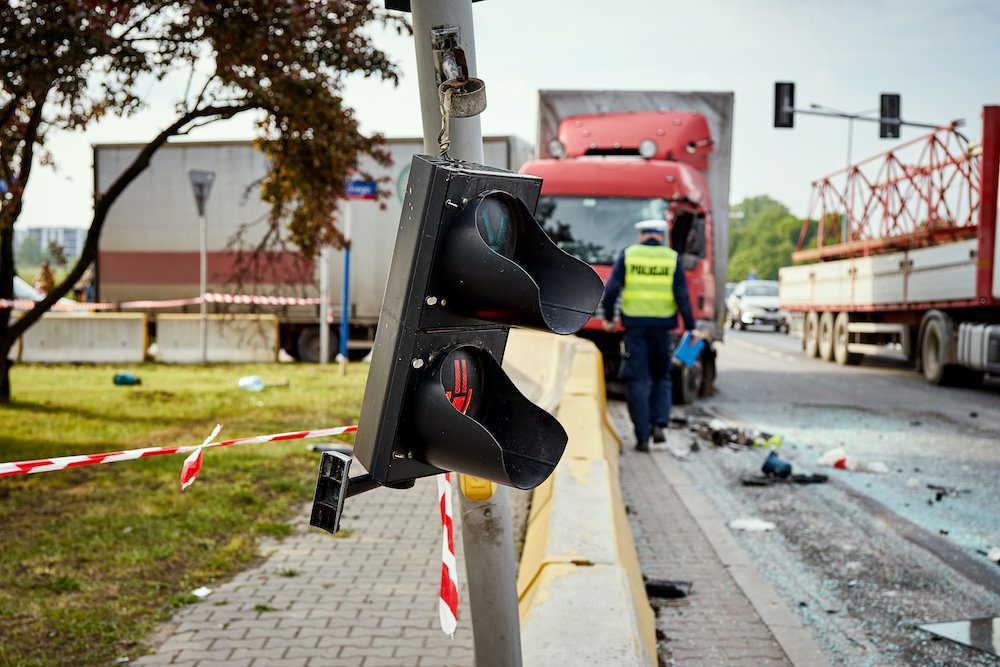 When you or a loved one are seriously injured in any type of truck wreck in New Mexico, it is important to realize that the Caruso Law Offices, P.C. are available to help you and your family. Our Albuquerque truck accident lawyers provide reliable, effective legal advocacy to injured victims and their families. To schedule a FREE, no strings attached initial consultation with a top-rated New Mexico truck accident lawyer, please contact us at our Albuquerque office or Rio Rancho office today. We also have an office in Ontario, California where we handle only catastrophic injury or fatal truck wrecks.
Why We Are Different
Unlike other types of motor vehicle accidents, truck accidents are significantly more complicated. That means they require a more skilled and knowledgeable lawyer to handle. Our trucking accident lawyer in Albuquerque, New Mexico is different than other personal injury and car accident lawyers in New Mexico and California. Attorney Mark Caruso is a member of state and national trial associations and the Academy of Truck Accident Attorneys (ATAA), a prestigious group dedicated to serving truck accident victims.
We also have over 35 years of experience handling motor vehicle accident cases. Our 18-wheeler accident lawyer Mark Caruso started his career as an insurance defense lawyer, learning the tricks of the trade and getting experience how to defend these types of cases. After gaining this invaluable experience, Mark Caruso became a plaintiff's motor vehicle accident lawyer who focuses on catastrophic, fatal, and disabling car crashes and truck wrecks throughout New Mexico.
Mark has used the insider information and experience that he gained as a defense lawyer to get his client's leverage and an advantage – knowing how to fight back against the common defenses and tactics used by defense lawyers and insurance adjusters. This knowledge and ability allows Mark Caruso to fight back for victims and their families in ways that other personal injury attorneys simply cannot. Since 2016, the Caruso Law Offices, P.C. has recovered over $30 million for clients in motor vehicle wreck cases. We understand the ins and outs of trucking accident cases, and we can help you and your family recover the compensation that you deserve in them. Call our Albuquerque truck accident law firm today to learn more about how we can help you.
Most Common Causes of Truck Accidents in New Mexico
Commercial truck accidents happen for a wide range of different reasons. When a collision occurs because of the negligence of a truck driver, trucking company, truck manufacturer, or any other party, there must be justice and accountability. The overwhelming majority of New Mexico truck accidents could have been stopped—if only proper safety protocols were observed. Some of the leading causes of truck accident include:
Companies using undertrained truck drivers
Truck drivers speeding to meet tight deadlines
Fatigued truck drivers
Distracted driving
Improper monitoring of drivers
Intoxicated driving
Negligently loaded trailers
Truck tire blowouts
Negligent hires
Failing to follow the vehicle and traffic laws
Failure to inspect and repair the truck
Aggressive driving
Manufacturer defects and product liability issues
Roadway maintenance issues causing governmental liability
Drugged driving, including the use of cocaine to stay away and drive longer
Violating FMCSA safety regulations, and
Other types of serious causes that could result in serious or fatal injuries.
Why Are Truck Accidents Different?
If you or your loved one was hurt in a commercial truck accident, it is strongly recommended that you work with a lawyer who has experience handling these types of claims. A few ways in which commercial trucking accidents are different than other accident types include the following:
Complexity
Because truck drivers are operating in an official capacity on behalf of a company, several layers of insurance can come into play, which complicates filing a claim. Not only that, but also a variety of federal laws, like the Federal Motor Carrier Safety Regulations, govern what truckers and truck companies can and cannot do. Determining who is liable and whether a truck driver was negligent requires reviewing a lot of evidence. Sometimes even faulty parts are to blame.
Severity of injuries
Trucks massively outweigh everything else on the road. Because of this, the injuries they cause are much more significant. These can include paralyzing spinal cord injuries, traumatic brain injuries, extensive organ damage, broken bones and more.
Aggressive insurance tactics
Trucking companies have well-funded corporate insurance policies. However, that also means that they fight harder to avoid paying claims. Even though truckers often drive while fatigued, trucking companies will do everything they can to avoid liability. Our attorneys need to act quickly before crucial evidence is destroyed or obfuscated.
Indeed, trucking accidents are among the most complex kinds of motor vehicle accidents. Do not go through the claims process alone. Professional guidance is just a phone call away. With our experience, we have helped many clients to receive the settlements they deserve.
Injured Victims Deserve Full Financial Compensation
In New Mexico, injured victims are entitled to financial compensation for their damages. That being said, the large insurance companies that handle truck accident claims fight aggressively to limit payouts. Even when liability is obvious, getting a fair settlement can still be difficult. At Caruso Law Offices, P.C., we have extensive experience in trucking accidents and all the extra complexities that come along with them. Our clients come from all over New Mexico, and we have a long track record of successful settlements.
Depending on the specific circumstances of your case, you may be eligible to recover financial compensation for:
Past pain and suffering – this is the conscious pain and suffering that occurs from the date of the accident to the date of recovery (verdict, settlement, award, or another form of payment)
Future pain and suffering – this is an amount of money that is equal to the number of years from payment to the victim's life expectancy (measured from an actuary table)
Medical bills – reimbursement for medical bills as well as payment for medically necessary and reasonably provable future medical expenses (i.e., future hip replacement)
Lost wages – compensation for lost vacation time, sick leave, annual leave, unpaid leave, unpaid time off, and other lost wages due to an accident, disability from an accident, doctor appointments, and other days when you are unable to go to work due to complications from the truck accident
Lost future earnings – if you are unable to work in the same line of work or at the same level or frequency as before the accident, you may be entitled to the different in salary between your old higher paying job and your new lower paying job, multiplied by the number of years left in your working career (i.e., before retirement)
Loss of consortium – normal and intimate relations with a spouse, but also normal and customary family relations with parents, children, siblings, and other family member or dependents such as family dinners, playing ball, or other normal family activities that you cannot maintain because of injuries or disability from a crash
Derivative claims – claims for an injured spouse such as having to solely maintain the house, help with appointments, and performing other and extra tasks
Loss of protection, guidance, parental guidance, and other intrinsic contacts – for spouses, but also to children and other individuals in a household
Property damage – to your vehicle, personal property (clothing, cell phone), and other property damaged in a crash
Punitive damages – in rare and exceptional cases where the conduct of a defendant is so egregious, punitive damages for gross and egregious misconduct
Nursing home care and treatment – care and treatment for nursing home expenses, in-home nursing and home health aides, and other care and treatment at an adult home, elder care facilities, or another type of facility due to an injury or disability, and
Other expenses related to a motor vehicle crash or a trucking accident in Albuquerque, New Mexico.
How Our Albuquerque Truck Accident Lawyers Can Help You
As experienced truck accident attorneys, we will bring our considerable knowledge to bear on your behalf. Our founding attorney, Mark Caruso, once defended insurance companies from these types of claims, so he knows exactly what tactics they'll use. Our services include:
Using expert witnesses – such as engineers and accident reconstructionists to counter the trucking company's position.
Aggressive discovery and evidence requests – fighting hard and demanding for evidence and documents from the trucking company to prove negligence.
Thorough investigations and insurance reviews – doing a complete insurance analysis to find all available sources of compensation.
Medical care and treatment – gathering records and interviewing treating providers and other healthcare providers to help support your case
Total state law and federal regulation reviews – we will thoroughly review all areas of law that may apply to your case to help prove liability and damages, including federal regulations that most other car accident lawyers do not know exist – which is why you need our experienced trucking accident lawyers in Albuquerque, New Mexico to help you
With their fleet of corporate lawyers, trucking companies have a distinct advantage. By bringing us on board, you will level the playing field and ensure that you are treated fairly. Winning a settlement in a truck accident case is difficult, but we have years of experience in doing it. When you entrust us with your future, you will not be sorry.
Proving Liability in a Trucking Accident Case in New Mexico
Even if you have damages from a motor vehicle accident, like a devastating trucking accident in Albuquerque, you will need to prove liability in order to recover compensation. Liability is also known as proving fault, and it can be very complicated. This is because there could easily be multiple parties who are liable for your trucking accident, including those you may not see at the accident scene. This includes mechanics and tire manufacturers who may be a factor in causing your truck wreck.
Generally, there are three ways to prove liability in a trucking accident in New Mexico. These three ways are all related and can all be plead, or alleged, together in a complaint or in a demand letter. However, they all require slightly different things in order to prove them.
Common Law Negligence
The most common type of claim against a defendant in a trucking accident is a common law negligence claim. Actually, this is the most common claim in all personal injury cases no matter what type of case – even slip and falls or medical malpractice. In a trucking accident or another type of motor vehicle accident, a negligence claim is simply the failure to act as a reasonably prudent driver would have in similar circumstances.
Thus, a negligence claim requires that a victim establish that there was a duty of care owed to others. This is also always the case in a motor vehicle accident case, as all motorists have a duty to safety and without recklessness or carelessness operate a motor vehicle. Thus, a defendant who is careless or reckless could cause serious injuries or damages in a motor vehicle accident.
In addition to a duty, a victim must prove that the defendant violated that duty and that this breach of a duty caused damages. That means a defendant's reckless or careless actions were a direct cause of a victim's injuries or losses. This is where most trucking accident cases are heavily litigated and contested, and many defendants will focus their case here by claiming they were not the case of the victim's injuries or losses.
Negligence Per Se and the Violation of a Statute
Another way to prove a trucking accident claim is through a doctrine known as negligence per se. This is a legal doctrine which says that a defendant's conduct which violates a statutory law can be used to hold a defendant liable for negligence in certain instances. Those instances include where a defendant's violation of a statute causes a victim's injuries.
Thus, for negligence per se to apply, a trucking accident lawyer in Albuquerque, New Mexico must prove the following:
The defendant violated the statute
The statute was meant to protect the victim from harm, AND
The statute was meant to prevent the harm that occurred to the victim from happening.
All three of these elements must be established. A common example would be a defendant truck driver who runs a red light and causes a truck wreck. The violation of the New Mexico statute on stopping at red lights is meant to prevent anyone from being injured in a collision with another vehicle that does not have the right of way. Thus, in this example, another person hurt in a crash with a truck that did not stop is likely to recover compensation for his or her injuries through the negligence per se doctrine.
Unlike the general common law negligence standard, if these three elements are met, any violation of the statute will automatically establish liability against a defendant. That means that fault is determined and a victim can focus on damages only. That is a huge tactical advantage in front of a jury.
Negligence Per Se and Violations of Regulations
Like statutory violations, the violations of a regulation can also be used with the negligence per se doctrine to help establish liability. A regulation is a rule promulgated by an administrative agency. As it relates to trucking accidents in Albuquerque, New Mexico, the regulations at question are those by the Federal Motor Carrier Safety Administration (FMCSA). These regulations are aimed at promoting safety in commercial trucking throughout the United States, as trucking is an interstate business.
The violations of a FMCSA regulation can be used with the negligence per se doctrine. However, they do not automatically establish liability or fault like a violation of a statute. Rather, a violation of a FMCSA regulation is merely evidence of negligence. That means it can be used to help prove liability against the defendant truck driver or trucking company, but it is just not automatic like a statutory violation.
Fight Back Against Negligent Truck Drivers and Companies by Hiring our Experienced Albuquerque Trucking Accident Lawyers
If you were seriously injured in a truck wreck, or if a loved one was disabled or wrongfully killed in an 18-wheeler crash, call the Caruso Law Offices, P.C. for help. Our experienced Albuquerque trucking accident lawyers are aggressive, results-driven advocate for injured victims. If you or someone you know was injured in a tractor trailer collision, we are here to help get you the compensation that you deserve.
Our Albuquerque trucking accident lawyers offer FREE consultations with no obligation to sign up with our law firm. If you do choose our personal injury law firm, and if we accept your case, you do not owe us any legal fees until we recover compensation for you. Our legal fees are also only paid after we recover compensation and from a percentage of the recovery, meaning there is a no win, no fee guarantee. To learn more, please contact us today after a New Mexico 18-wheeler wreck.
Contact us as soon as possible to discuss your case. You can reach our legal team online or by phone: 505-308-0427. From our offices in Albuquerque and Rio Rancho, we represent truck accident victims in Bernalillo County, Valencia County, Sandoval County, Torrance County, and Santa Fe County.