Ontario Trucking Accident Lawyers Answers When is a Trucking Company Liable for an 18-Wheeler Wreck in California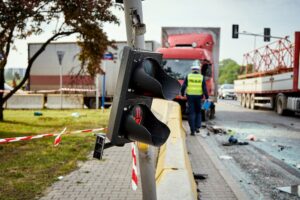 Being involved in a commercial trucking accident is not only frightening, but often catastrophic. This is particularly true when a truck driver is negligent, underqualified, or outright unsafe to drive. Unfortunately, many truckers aren't able to cover your losses. Thus, truck accidents often leave victims and their family members with many questions, including when is a trucking company liable for an 18-wheeler wreck in California? Oftentimes one of the most responsible parties in a trucking accident is the commercial trucking company who owns the truck and has hired the driver. Although there are exceptions to these rules. As commercial trucking accidents often lead to serious or catastrophic injuries, it is wise to work with an experienced Ontario truck accident lawyer who can review your case and determine who is liable for the accident as well as what damages you may be entitled to.
Here at the Caruso Law Offices, P.C., our experienced Ontario trucking accident lawyers understand how to hold all parties who are liable for your accident accountable. We work with some of the leading experts in truck accident cases, as well as having a reputation for working well with treating physicians, first responders, and other agencies who can help build your case. To learn more about how our legal team can help you and your family, contact us today to schedule a FREE consultation.
How Does Liability Work in a Trucking Accident Case?
Generally, trucking accident cases have multiple individuals who may be liable for the crash. The most obvious is the truck driver. This individual is likely the one who is most negligent for causing a crash due to his/her acts or omissions which were reckless and unreasonable. These actions which cause personal injuries to others means that the truck driver is often the culpable party. However, most truckers do not have extensive assets or insurance policies to pay for a victim's injuries. In fact, most truckers will argue that they are actually only driving a truck due to their relationship with their employer. This is known as "but for" causation, where a truck driver wouldn't have been driving when your accident occurred "but for" his or her employment with the trucking company.
As a result, the law has evolved in this employer-employee relationship to create the doctrine of respondeat superior. This is a type of vicarious liability relationship, meaning that the actions of one person can be binding on another. A respondeat superior relationship is specifically when vicarious liability applies from a worker to an employer.
Thus, trucking companies are often liable for their employee's negligent actions through the respondeat superior doctrine. That means that the negligence of a truck driver will be imputed on the trucking company. This is important because a trucking company has a much larger insurance policy, as required by FMCSA regulations and state laws, as well as much greater assets to pay for a victim's injuries.
Ways in Which a Trucking Company Can be Held Liable for an Accident
You may wonder, how can a trucking company be held responsible for an accident if the driver was the person who appeared to have caused the accident? The answer is that trucking accidents are quite complex, as truck drivers and commercial trucking companies have certain laws specific to commercial trucking that must be adhered to. Therefore, violation of these laws can place others at risk and lead to accidents, imposing liability on the trucking company if they were in violation of one of these laws or regulations.
Examples in which trucking companies may be liable for the accident include the following:
Failure to ensure that trucks are properly maintained and inspected, leading to a mechanical failure which contributes to the accident
Failure to adequately screen drivers prior to hiring them
Failure to ensure that truck drivers are adequately trained before allowing them on the roadways of California
Failure to ensure that truck drivers have adequate qualifications to be driving a commercial truck
Allowance of violation of hours of service guidelines, which are imposed to reduce the risk of fatigued driving and other types of accidents
Improperly loaded cargo which is loaded by the trucking company, leading to a trucking accident, and
Blanket liability for the negligence actions of a truck driver in an Ontario trucking accident through the doctrine of respondeat superior.
Hurt in an 18-Wheeler Wreck? Still Not Sure When is a Trucking Company Liable for an 18-Wheeler Wreck in California? Call Us
If you or a loved one were injured in an 18-wheeler wreck occurring in Ontario, California, call the Caruso Law Offices, P.C. to learn more about how we can help you by dialing (505) 883-5000. Our experienced personal injury law firm can help you determine when is a trucking company liable for an 18-wheeler wreck in California. After a crash in California or New Mexico, call our experienced Ontario trucking accident lawyers for help recovering the compensation that you deserve. We handle cases in both New Mexico and now Ontario, California. Our New Mexico cases and locations include Las Cruces, Santa Fe, Roswell, Cuervo, Rio Rancho, Clovis, Farmington, Hobbs, Albuquerque where our office is located, and anywhere else throughout New Mexico. We also have a second trucking accident office in California, serving those in Inland Empire and San Bernardino County, as well as those who have been catastrophically injured or wrongfully killed through California. Please call to schedule for FREE appointment by dialing (505) 883-5000 or contact us through our website's easy to use and convenient contact box available below.