Were You Injured in a Semi Truck Tire Blowout Accident? Call Our Trucking Accident Lawyers in Albuquerque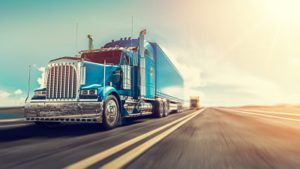 There are many different ways that an 18-wheeler accident could occur in New Mexico. One of the most common is a defective part of a truck, particularly in the tires. A semi truck tire blowout is a serious cause of commercial trucking accidents on the roadways of New Mexico. Most large commercial vehicles have 18 wheels, but can have as many as 34 wheels for certain payloads. While the wheels serve a purpose of moving the truck where it needs to go, the wheels also help to keep the truck stable and distribute the weight of whatever the truck is carrying. If even one tire blows, however, our trucking accident lawyers in Albuquerque know that it can cause the driver to lose control of the truck, leading to a catastrophic or fatal accident.
Here at the Caruso Law Offices, P.C., our bodily injury law firm is dedicated to protecting the rights of victims and their families who have been injured in a catastrophic accident. This includes a semi truck tire blowout accident in New Mexico where a defendant's negligence may have caused an avoidable accident. If you or a loved one have suffered any personal injuries in an 18-wheeler accident, call our experienced trucking accident lawyers in Albuquerque, New Mexico for help.
Causes of Semi Tire Blowouts
There are many different causes of a semi truck tire blowout accident in New Mexico. For the most part, tire blowouts are due to preventable causes. Some of the most common causes include the following:
Driver error - If a driver is not fully paying attention and fails to avoid a hazard that is in the middle of the road, it can lead to a tire blowout. A tire blowout can also occur if the driver drivers off, causing damage to the tire. If a tire blowout happens and the driver does not appropriately handle the truck they can also be negligent in the accident.
Insufficient inflation - Every tire is supposed to be at its recommended level of inflation in order to minimize the risks of a tire blowout or other issues from occurring while on the roadways. The level of inflations if referred to as the pounds per square inch, or PSI. Underinflation or overinflation of a tire can lead to issues such as a tire blowout. Truck drivers and trucking maintenance companies are required to check the PSI prior to starting their journey and during their journey. Failure to do so can result in a tire blowout.
Tire Defects - Tire manufacturers may be held liable if a tire blowout occurs as a result of a manufacturer defect. That being said, trucking companies and maintenance crews are responsible for regularly examining the tires and other parts of the trucks, meaning that they could identify the defect before a blowout occurs.
Overloading of cargo - All commercial trucks have weight limits for cargo. The Federal Motor Carrier and Safety Administration (FMCSA) has specific weight restrictions based on the size of the truck as well as how the weight should be distributed. The main reason for this is that if there is too much weight on the tires, it can lead to a tire blowout. If a truck is overloaded with cargo, it can lead to a serious accident caused by a tire blowout. Overloading of cargo can also lead to other serious types of commercial trucking accidents.
Improper maintenance - As mentioned above, trucks are supposed to be regularly inspection in an effort to prevent trucks going out on the road with malfunctioning or defective parts. Additionally, appropriate maintenance is supposed to be performed to keep all parts in working order. Failure to perform appropriate maintenance can lead to a tire blowout.
Failing to inspect for ply damage or side wall damage to a tire which can cause a weekend and result in a semi truck tire blowout in New Mexico.
Victims Should Call the Caruso Law Offices, P.C. After a Semi Truck Tire Accident in New Mexico
Anyone who was injured in any type of serious or catastrophic vehicle accident should contact our personal injury lawyers in New Mexico. This is particularly true of truck accident victims. These are complicated types of crashes that require an experienced trucking accident lawyer in Albuquerque like us to review. If you or a loved one were seriously injured in any type of truck wreck, especially a semi truck tire accident in New Mexico, call the Caruso Law Offices, P.C. to schedule a FREE consultation by dialing (505) 883-5000.
We handle causes throughout New Mexico, including Las Cruces, Santa Fe, Roswell, Cuervo, Rio Rancho, Clovis, Farmington, Hobbs, Albuquerque where our office is located, and anywhere else throughout New Mexico.  We also have a second trucking accident office in California, serving those in Inland Empire and San Bernardino County, as well as those who have been catastrophically injured or wrongfully killed throughout California.  Please call to schedule for FREE appointment by dialing (505) 883-5000 or contact us through our website's easy to use and convenient contact form available here.