Injured in an Accident in New Mexico? Our Personal Injury Attorney Los Lunas Can Help
Few people will go through life without being hurt in an accident of some sort, but you might be surprised to learn how many victims are forced to seek advanced medical treatment for their injuries. According to data reported by the U.S. Centers for Disease Control and Prevention (CDC), around 24 million people seek care for nonfatal injuries in hospital emergency departments nationwide. For many victims, the aftermath of a personal injury accident will also lead to financial and emotional losses that can be considerable. Our Personal Injury Attorney Los Lunas can help you and your family protect your rights to compensation.
When you have been injured in an accident that was not your fault, you may have options to recover compensation for these losses under New Mexico law. Because the legal process can be complicated, especially when you are recovering, it is wise to rely on our team at Caruso Law Offices, P.C. Please contact our firm to set up a free consultation with one of our Los Lunas personal injury attorneys, and read on for some information about our legal services.
Accident Claims Under New Mexico Personal Injury Laws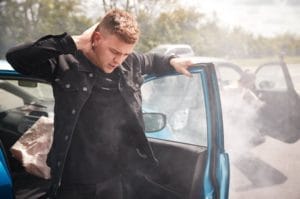 You can trust our lawyers to represent you in a wide array of accident cases, as personal injury matters are our firm's primary focus. We are committed to protecting your rights in connection with:
Auto collisions, including those caused by failure to yield, running red lights, drunk driving, speeding, texting while driving, and other negligent acts;
Truck accidents, such as underride crashes, jackknifes, and rollovers;
Motorcycle collisions;
Pedestrian and bicycle accidents; and
Serious, catastrophic injuries, including spinal cord injuries, traumatic brain injury (TBI), broken bones, amputation, and trauma to internal organs.
Our personal injury lawyers in Los Lunas also handle wrongful death cases on behalf of surviving family members. We can assist with your claim if you lost a loved one due to someone else's negligence.
Seeking Compensation for Your Losses
You may qualify to recover monetary damages if you can prove that the injury-causing accident was directly caused by the at-fault party's failure to exercise reasonable care. Our Los Lunas personal injury attorneys at Caruso Law Offices, P.C. start by filing an insurance claim and attempting to settle. If the insurer will not agree to a fair, reasonable amount, we will take the next steps by initiating litigation in court.
Our objective is to obtain full compensation for:
Costs of medical treatment, including surgery, hospitalization, rehabilitation, physical therapy, and other care;
Lost wages, if you were unable to work because of your injuries;
Pain and suffering;
Scarring and disfigurement;
Losses based upon how your injuries affect your personal relationships;
Diminished quality of life; and
Many others.
Contact a Los Lunas Personal Injury Lawyer to Learn More
If you were hurt in any type of accident, you can count on our team at Caruso Law Offices, P.C. to fight for your rights. Please call (505) 384-7865 or go online to schedule a no-cost consultation today. Our Los Lunas personal injury attorneys represent victims in Valencia County, as well as in Bernalillo, Sandoval, Torrance, and Santa Fe Counties, and we are here to help.