If You Were Hurt in an Accident in New Mexico, Call Our Personal Injury Attorney Moriarty For Help
If you were injured in an accident that was not your fault, you may not initially give much thought to the wide range of ramifications. However, our Personal Injury Attorney Moriarty know that you will soon face the full extent of your losses, starting with your medical costs. Statistics on hospitalization expenses indicate that you could be spending anywhere from $2,200 to $3,000 per day, while the costs of a stay in a rehabilitation center could top $46,000 in sum. Plus, there are many other areas of your life that are disrupted when you suffer trauma, personally and professionally.
It is reassuring to know that you have legal options for pursuing compensation under New Mexico law, though the process can be complex. Instead of putting your rights at risk, trust our team at Caruso Law Offices, P.C. to advocate on your behalf. You can learn more about your remedies by setting up a no-cost case evaluation with a Moriarty personal injury lawyer, but an overview of our legal services may help.
Our Team Handles a Wide Range of Accident Cases
We are dedicated to fighting for the rights of victims in many different types of accident claims, as personal injury claims are our core practice areas. Our attorneys are knowledgeable and skilled at handling:
Auto collision claims, such as those caused by speeding, running red lights, failure to yield, drunk or distracted driving, and other types of negligent misconduct;
Truck accidents, including rollovers, underride crashes, and jack-knifes;
Motorcycle crashes;
Incidents involving vulnerable road users, including pedestrian and bicycle accidents; and
Accidents that caused serious, catastrophic injuries, such as traumatic brain injury (TBI), broken bones, amputation, dislocations, spinal cord injuries, and many others.
In addition, our Moriarty personal injury attorneys can also assist if you lost a loved one in an accident. New Mexico wrongful death laws provide surviving family members with legal options, and we can guide you in recovering compensation for your losses.
The Legal Process for Recovering Compensation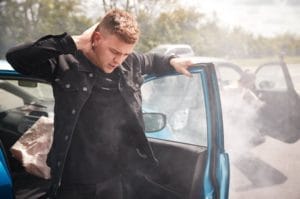 Most personal injury accidents are the result of negligence, which means you need to prove that the incident was caused by the at-fault party's breach of the legal duty to exercise reasonable care. You initiate the legal process by filing an insurance claim and attempting to reach an out-of-court settlement. If the insurer refuses to pay fair compensation, you must file a civil lawsuit.
Our Moriarty personal injury lawyers at Caruso Law Offices, P.C. will handle all tasks as we work to get the highest monetary damages allowed by New Mexico law, including amounts for:
Medical bills;
Lost income;
Pain and suffering;
Losses that impact your personal relationships; and
Many others.
Consult with a Moriarty Personal Injury Lawyer for Free
For more information on your rights and remedies after an accident, please contact Caruso Law Offices, P.C. to set up a complimentary consultation with a personal injury attorney in Moriarty. You can reach our firm by calling (505) 384-7865 or checking us out online. We serve victims throughout Bernalillo, Valencia, Sandoval, Torrance, and Santa Fe Counties, and we look forward to working with you.