Big Rig Crash in New Mexico? Call Our Grants Truck Accident Lawyers
Did you know that accidents involving large trucks are responsible for a high rate of traffic fatalities? As the Insurance Institute for Highway Safety (IIHS) and the Highway Loss Data Institute (HLDI) explain, large trucks like 18-wheelers can weigh about 20 or 30 times as much as a smaller passenger vehicle, and trucks also have greater ground clearance. As a result, collisions involving large trucks and smaller passenger vehicles are often devastating to occupants of those passenger cars. If you were injured in a truck accident, or if you lost a loved one in a collision, you should seek advice from one of our Grants truck accident lawyers as soon as possible.
Getting the Facts About Grants Trucking Accidents
What should you know about truck accidents in Grants, New Mexico? The following are some facts and figures about large truck collisions from the IIHS and HLDI:
4,136 people were killed in large truck accidents in 2018;
16 percent of all truck accident fatalities in 2018 were deaths of truck drivers;
67 percent of trucking fatalities were deaths of occupants in passenger vehicles;
15 percent of reports truck accident fatalities were deaths of pedestrians, bicyclists, or motorcyclists;
Large truck crash deaths have been on the rise since 2009, and truck accident fatalities in 2018 represented a 31 percent rise in deaths from 2009;
More truck drivers have been killed in large truck accidents in recent years, with the overall fatality rate of truck driver fatalities rising by more than 50 percent between 2009 and 2018.
Common Injuries in a Grants Truck Accident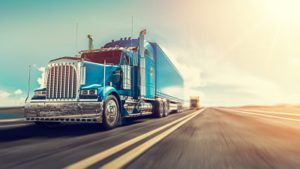 Truck accidents in Grants can be severe and debilitating. Common injuries in a Grants truck collision can include but are not limited to the following:
Traumatic brain injuries;
Broken bones;
Crush injuries;
Internal bleeding;
Spinal cord injuries;
Back injuries;
Neck injuries;
Lacerations; and/or
Amputations.
Whether you have suffered life-threatening injuries or injuries that can heal but require extensive medical treatment, one of our Grants trucking accident attorneys can help you to seek the financial compensation you deserve.
Do I Need a Lawyer for a Grants Truck Accident Claim?
You might be wondering if you need to hire a lawyer for your truck accident case, from the early stages of a case involving an insurance claim to a truck accident lawsuit. While you are not required by law to have an attorney, it is critical to remember that truck insurance companies and large truck employers will want to do everything they can to avoid paying you the financial compensation you deserve. The insurance company could attempt to low-ball you in offering a settlement. Trucking companies often have deep pockets, and they will hire experienced attorneys to fight your claim.
You need to have a dedicated and aggressive Grants truck accident lawyer who can represent your interests and hold the truck driver and the trucking company accountable for your losses. As experienced truck injury lawyers, we will do everything we can to fight for your right to compensation.
Statute of Limitations in a Grants Truck Accident Case
If you plan to file a truck accident lawsuit, it is essential to understand how the statute of limitations could affect your case. Under New Mexico law, most personal injury lawsuits, including truck accident lawsuits, must be filed within three years from the date of the trucking crash in Grants. As soon as the accident happens, the clock on the statute of limitations starts to tick. Once that three-year time window closes and the clock stops ticking, you will not be able to file a lawsuit.
Truck accident lawsuits that are filed beyond the time limit set by the statute of limitations will be time-barred according to New Mexico law. As such, you should get started on your lawsuit as soon as possible. The sooner you get in touch with our firm, the quicker we can begin seeking compensation for your losses.
Contact a Grants Truck Accident Lawyer Today
Nobody should have to experience the consequences of a serious or deadly truck accident in Grants, New Mexico, yet these collisions happen with far too much frequency. From drunk or distracted driving to aggressive or drowsy driving, many trucking collisions result from a driver's negligence. If you or a loved one sustained a serious injury in a truck accident, you can count on an experienced Grants truck accident attorney to seek the financial compensation you deserve. One of the personal injury lawyers at our firm can speak with you today about developing a strategy to win your case. Contact Caruso Law Offices, P.C. for more information.