Helping Injured Victims Hold Truckers Accountable: Carlsbad Truck Accident Lawyers
At Caruso Law Offices, P.C., we have been helping truck accident victims for years. The days following a truck accident can be horrifying for the victim and family members alike. Commercial trucks like 18 wheelers are very heavy, weighing more than 40 times other vehicles on the road. When a large truck collides with a motorist, the results are tragic. If that happens to you and your family, call our Carlsbad Truck Accident Lawyers.
Please contact a member of our team today. We will walk you through the process for obtaining fair compensation and analyze your chances of success. Our Carlsbad truck accident lawyers are standing by.
Types of Truck Accidents
Large trucks can collide with other vehicles on the open highway, on side streets, and in commercial districts. Some of the more common accidents include:
Jackknife. A tractor-trailer has two parts connected by a joint. This means that the trailer in back can swing out in a perpendicular angle, like a Swiss Army knife and strike vehicles in adjoining lanes.
Override. A truck can crunch a smaller vehicle that stops in front of it, often because the driver is following too closely. When the truck is going too fast, it can literally run over the smaller vehicle.
Underride. A smaller vehicle coming up behind can slide under the trailer in the back or at the sides. The trailer can sheer off the top of any passenger vehicle, leading to tragic injuries.
Rollovers. Semis and other commercial vehicles are often unstable. They can roll onto their sides, crushing nearby people and vehicles.
Blowouts. Tires with improper pressure or worn tread can blow into pieces, rendering the truck unstable.
After a wreck, make sure to call the cops to come to the scene of the accident and stop to swap information with the truck driver.
Accident Causes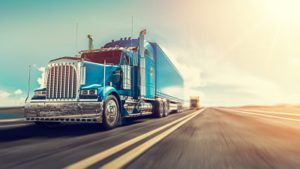 Truck drivers cause many accidents because they do not drive with sufficient care. Many take reckless actions that endanger the safety of others on the road.
Some of the more common accident causes include:
Fatigue
Speeding
Impairment by alcohol, drugs, and prescription drugs
Cell phone use
Distraction
Disorientation or confusion
Failure to check a blind spot
Driver impatience
Some truck drivers have not been properly trained and others have a history of driving dangerously. Truck companies must carefully screen their applicants and follow all applicable federal and state laws.
Holding the Correct Parties Responsible
With a garden variety car crash, there is usually only one other party to blame: the other driver who collided with you. But truck accidents are different. Many parties could be to blame. Injured victims need a lawyer who can fully investigate a crash to identify the correct party to sue.
Our Carlsbad truck accident lawyers have sought compensation from truck drivers and the companies that employ them. However, we have also investigated whether mechanics, truck manufacturers, or loading companies also share responsibility.
For example, in a roll over, a driver could be to blame for taking a corner too quickly. But unbalanced cargo could have also contributed to the accident. To improve the odds of a fair financial recovery, you need to sue all parties possible.
Justifiable Compensation for Your Injuries
A truck accident victim can receive money for all necessary medical care, including ambulance services, surgery, hospital stays, prescription drugs, doctor appointments, and rehabilitation services. Some injuries are long-lasting and will require future care, such as an at-home attendant, and we can seek compensation to cover the cost of all care.
Further, our clients have obtained compensation for lost income while they recover. If they are permanently disabled, they might be unable to return to work, and we can seek money to make up for lost future income.
Additionally, accident victims suffer from pain and suffering, mental anguish, disability, or disfigurement. Though harder to measure in dollars and cents, these losses also warrant compensation.
Complying with the Statute of Limitations
New Mexico has laws on the books that require injured victims bring lawsuits within a certain amount of time. Our statute of limitations provides that in personal injury cases a victim has three years to file a lawsuit, otherwise a judge will dismiss the case.
For example, if you are involved in a wreck on June 1, 2019, you need to have a lawsuit filed by June 1, 2022. Failure to meet this deadline can result in a total loss of compensation.
Our Carlsbad Truck Accident Lawyers Fight for You
You can be sure that the trucking company has dozens of attorneys looking out for its interests. Why not hire a seasoned attorney to represent you? Please contact Caruso Law Offices today at (505) 384-7865. One of our Carlsbad truck accident lawyers can meet for a free consultation.