WERE YOU IN A CRASH WITH A DISTRACTED DRIVER? WE HANDLE DISTRACTED DRIVING ACCIDENTS
We've all seen distracted drivers: people who are texting, fiddling with their GPS, eating or even shaving while behind the wheel. These people are not only putting themselves at risk, but they're also endangering everyone on the road. Distracted driving accidents are dangerous and often fatal, and usually entirely preventable.
At Caruso Law Offices, P.C., we hold distracted drivers accountable when they cause accidents. Using a variety of methods, we will prove the negligence of these drivers and use that as the basis of your claim against their insurance company. We have secured settlements for many clients throughout New Mexico, and we can help you, too.
Consultations are always free. Let us know what happened, and we'll tell you how we can help.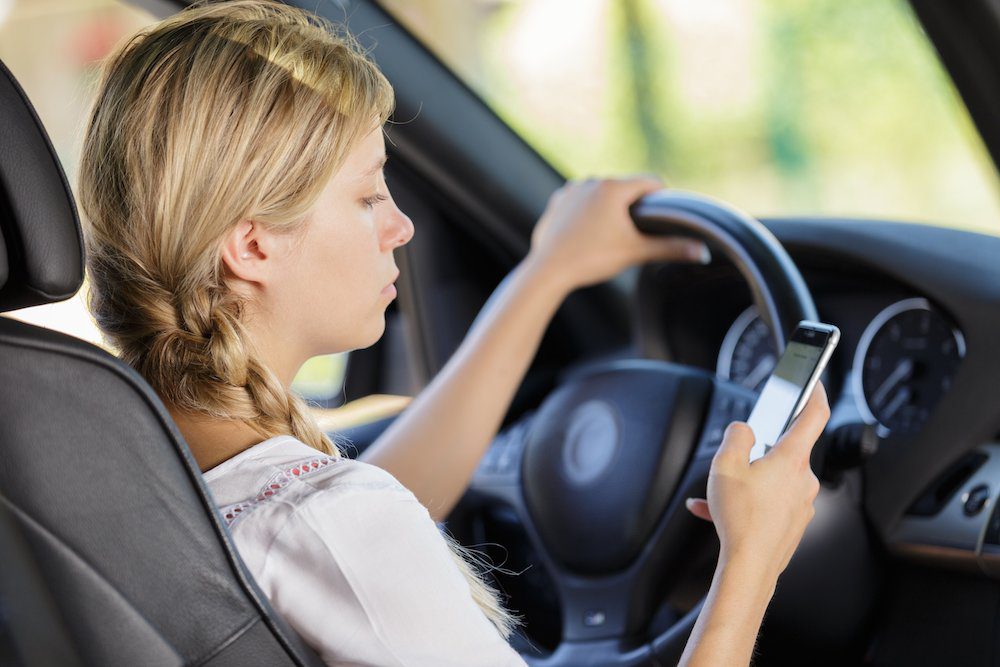 Distractions Are More Than Just Texting
Cell phones are the most obvious culprit for distracted driving. In fact, they're probably the main cause behind the increasing rates of crashes and injuries throughout the country. However, distractions behind the wheel come in all shapes and sizes. These can include:
Texting
Talking on the phone
Configuring a GPS
Talking to other passengers
Eating
Handling a pet
Combing hair or applying makeup
Adjusting music controls
Zoning out and not paying attention
While some of these causes are difficult to prove, others are not. Some, including talking on a cell phone or texting while driving, are actually illegal in New Mexico. Our Albuquerque distracted driving lawyers will investigate these possibilities as thoroughly as possible to establish liability.
Negligence & the Law of Driving
New Mexico recognizes the law of negligence, which imposes a duty that people must use reasonable care whenever they undertake an activity that could injure someone. Driving a car on a road is a classic situation where someone must be sufficiently careful. If they are not, and their carelessness harms someone, then they have been negligent, and the victim can sue.
Distracted driving is a clear form of negligence. Careful drivers do not talk on the phone, eat a bowl of soup, or play with their dog when they are supposed to be driving. Consequently, distracted drivers are legally obligated to pay compensation to victims when they slam into them. This includes truck drivers who violate FMCSA regulations on distracted driving and cell phone use.
A Growing Epidemic
Distracted driving is already bad, and it's getting worse. Despite state laws limiting cell phone use in the car, surveys show that drivers are using their phones more and more while they're on the road. Predictably, car crash deaths are keeping pace. For the last several years, every consecutive year has been more deadly than the last.
The best way to fight distracted driving is to avoid distractions yourself. This can be difficult, especially with the pace of modern life. However, our distracted driving lawyers in Albuquerque have some tips:
Model safe driving for your children. It's no secret that young people pick up on how to drive by watching their parents. If you are distracted, then your children will probably become distracted drivers, also.
Put your cell phone out of reach. This might mean storing it in the backseat or the trunk of the vehicle. Remember, you can easily reach over to the glove compartment box, so you probably need to put it farther away.
Pull over to the side of the road if you need to talk on the phone, restrain your dog, or eat a meal. It is easier to do everything efficiently when you are not focused on driving.
Install apps on your phone that limit distracted driving. For example, some apps will automatically shut the phone off when they sense that the vehicle is in motion.
By paying close attention to driving, you can minimize the risks of getting into a crash with a distracted driver.
What to Do After Distracted Driving Accidents
Our Albuquerque distracted driving lawyers recommend that people take the following steps to secure their ability to sue for compensation.
First, call the police out to the scene of the accident. An officer can write up a police report which can establish certain facts, such as the location and time of the accident.
Second, note anything that shows the driver was distracted. For example, he might have gotten out of his car holding his phone. Or you might have seen the driver in the seconds before the crash not paying attention. These are important details.
Third, never admit fault for the accident, even if you think you contributed a little bit. All statements you make following an accident could be introduced against you to reduce your settlement or eliminate your ability to receive any money.
Fourth, shop around for an Albuquerque distracted driving lawyer who understands distracted driving cases. A lot of laws come into play in these types of collisions, and your attorney must understand how they all fit together.
Get The Help You Need From Distracted Driving Accidents
If distracted driving caused your crash, you need an attorney who knows how to get results. Our distracted driving accidents lawyer focus exclusively on car and truck accidents, so we have detailed knowledge on how to establish fault in a distracted driving accident. Remember, you need to do more than show a motorist hit you. You also need to show that he or she did not operate the vehicle safely.
For the best chance of a fair settlement, contact us as soon as you can about your case. You can reach our Albuquerque office online or by phone: 505-369-0744. We serve clients throughout New Mexico.