Our Bernalillo County Truck Accident Lawyers Can Negotiate A Fair Settlement for Truck Accident Victims
Truck accidents cause serious injuries, and victims often struggle to get insurance companies to take their claims seriously. At Caruso Law Offices, P.C., we intend to change that. Our Bernalillo County Truck Accident Lawyers have years of experience fighting hard for our clients to get them the compensation they need.
If you were hurt in a truck accident, please give us a call. One of our Bernalillo County truck accident lawyers will happily meet with you to go over what happened.
Truck Accidents Cause Serious Injuries
A big rig can crunch any passenger sedan on the road, even an SUV. Weighing up to 40 tons, tractor-trailers can cause devastating injuries even when traveling at relatively slow speeds. Our Bernalillo County truck accident attorneys have helped clients suffering from:
Brain injuries
Concussions
Neck injuries
Compressed nerves
Fractures
Strains and sprains
Back injuries
Herniated discs
Spinal column injuries
Some of these injuries will be immediately apparent. Others might take a day or two to fully manifest. Regardless, an injured victim should quickly go to the hospital to be looked at. Our Bernalillo County Truck Accident Lawyers can help protect the rights of victims in a truck crash by fully investigating a case.
Serious Compensation for Serious Injuries
The purpose of a personal injury claim is to make up for the losses you suffered as a result of the collision. To that end, our truck accident lawyers in Bernalillo County have requested compensation to cover:
Diagnostic treatment
Surgery
Ambulance services
Prescription drugs
Doctor visits
Prosthetics, such as a wheelchair or crutches
Lost income or self-employment income
Property damage
Pain and suffering
Some compensation is easier to calculate than others. For example, you should have medical bills and receipts showing how much you spent for care. Other losses, like pain and suffering, are subjective. Still, we have fought to obtain maximum compensation when our clients were suffering from serious pain and limitation as a result of someone else's negligent behavior. Contact us today so we can review what kind of compensation is in play.
What to Do after a Truck Accident: Explained by Our Bernalillo County Truck Accident Lawyers
Some accidents are so devastating that an injured victim can only wait as a bystander calls for an ambulance. However, if you can move around at all, you should take sensible steps to protect your right to compensation. Our lawyers recommend that you first check to make sure everyone at the scene is okay.
Next, use your smartphone to take pictures of the scene of the accident. This step includes getting pictures of all damage to your vehicle and the truck. Also take pictures of any debris, skid marks, or obstructions that contributed to the accident. If at all possible, take a couple pictures of your vehicle and the truck before you move to the side of the road.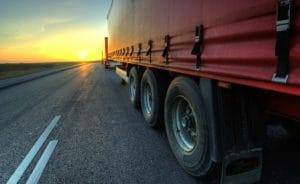 Remember to swap information with the truck driver. You should get his name, employer's name, driver's license, and insurance information. You will probably need to call the company or its insurer to report the accident, so do not skip this step. The truck driver should also request your personal and insurance information.
Closely observe the truck driver and note anything that seems "off." If the truck driver has bloodshot eyes or slurred speech, he could be intoxicated. A driver high on drugs could seem "jumpy" and erratic. Your attorney will want this information.
Always remember to call the cops to come to the scene. An officer will ask for your version of events and write up a report.
Lastly, get the names of any witnesses. We will want to speak with them to find out what they know about the wreck.
Who is to Blame for Your Accident?
Blame matters. In legal terms, this is called "liability," and a person or entity liable must pay compensation under New Mexico's negligence laws. In our experience, one or more of the following could be to blame:
The truck driver. Drivers can make many mistakes, such as driving too fast for conditions or being distracted or intoxicated.
The truck company. The truck company could have failed to perform background checks or poorly trained their drivers. They could also put a dangerous truck out on the road.
Loading company. Sometimes a different company loads and unloads the cargo. They could have unbalanced the trailer.
Truck manufacturer. A truck could have a defective part that fails, leading to a wreck.
Mechanic. A mechanic who does poor work could fail to identify a problem or insufficiently repair a damaged truck.
In some accidents, more than one party might be to blame. Our lawyers always fully canvas everything that is known to identify the correct party to sue.
Call a Bernalillo County Truck Accident Lawyer for More Information
Caruso Law Offices, P.C. is a leading firm in New Mexico representing injured truck accident victims. Call us today to schedule a free consultation.