DRIVER FATIGUE ACCIDENTS LAWYERS
Driver fatigue kills. When an occupation puts drivers on the road for hours every day, those working drivers become potential risks to other motorists if they:
Drive while under the influence of substances, such as pep pills, allergy medications, drugs or alcohol
Drive aggressively as a result of frustration with traffic congestion
Drive inattentively — a common risk for full-time drivers
Drive while sleepy or fatigued
NM Truck Accident Attorneys, in Albuquerque, represents people injured in fatal truck accidents. A critical component of our advocacy is to determine the cause of an accident. A detailed investigation sometimes turns up evidence that a trucker had not rested long enough to drive fully alert. Evidence of a truck driver's fatigue at the wheel can strengthen an injury claim or wrongful death accident claim.
Truck accident lawyers and investigators used to discover evidence that a trucker was driving while fatigued by reviewing drivers' logs. Now, reviewing records from satellite monitoring of truck activity is a more common method of determining how much rest a truck driver had before going on the road.
GOVERNMENT REGULATIONS AIM TO PREVENT BIG TRUCK ACCIDENTS CAUSED BY SLEEPY DRIVERS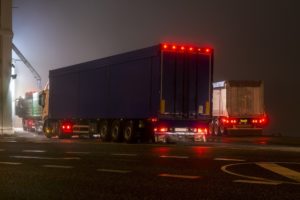 The U.S. Department of Transportation issues Federal Motor Carrier Safety Regulations (FMCSR) as follows: Part 395 limits the hours of service of drivers of property carrying commercial motor vehicles. A summary of the key limits in Part 395 are as follows:
A maximum of 14 hours on duty from the start of a work shift until the end of a work shift. After 14 hours on duty the driver must have 10 hours off duty before beginning a new work shift.
A maximum of 11 hours of actual driving is permitted during the 14 hours on duty. Rest time is required.
A maximum of eight hours of driving time is permitted before a 30-minute rest time is required.
A maximum of 60 hours on duty is permitted during seven consecutive days.
A maximum of 70 hours on duty is permitted during eight consecutive days.
An additional two hours is permitted to above restrictions if a driver encounters adverse driving conditions and extra time is needed to reach a safe location to stop the tractor trailer or complete the run.
The Federal Motor Carrier Safety Act (FMCSA) likewise spells out similar hours-of-service rules for truck drivers, intended to prevent truck driver fatigue. Was the truck driver in the New Mexico trucking accident that injured you driving while fatigued? If so, NM Truck Accident Attorneys, can determine that and apply that information to an injury claim or lawsuit.
TRUCK ACCIDENT CONTENT:
DID DROWSY DRIVING LEAD TO THE TRUCK ACCIDENT? WE CAN INVESTIGATE THAT POSSIBILITY OF DRIVER FATIGUE
Falling asleep while driving is a risk for a fatigued truck driver who is at the wheel all day. In extreme cases, instances of sleeping while driving have been reported. Our NM truck accident law firm can determine what the truck driver's error was and use that information to build a compelling injury claim. To schedule a no-fee, no-obligation consultation with an attorney, call 505-308-1556 or send an email.