Motorcycle Accidents Can Cause Many Types of Serious Personal Injuries
Unlike other motorists, motorcyclists are not protected inside the four metal walls of a cabin. There are no airbags, side curtains, or safety belts. Motorcyclists do not have crunch zones or cushions to prevent them from physical harm. This is why motorcyclists involved in motor vehicle accidents are more likely to get serious injuries and sustain significant personal injuries. This is particularly true of motorcycle accidents with tractor trailer trucks.
If you or a loved one has been injured in a motorcycle accident, contact the experienced Albuquerque motorcycle accident attorneys at the Caruso Law Offices, P.C. to learn how we can protect your rights to compensation. We offer a FREE case evaluation and will listen to every victim's story. Call us today for that FREE consultation by dialing (505) 369-0744. We will help right for you and get you the compensation you deserve from your motorcycle accident.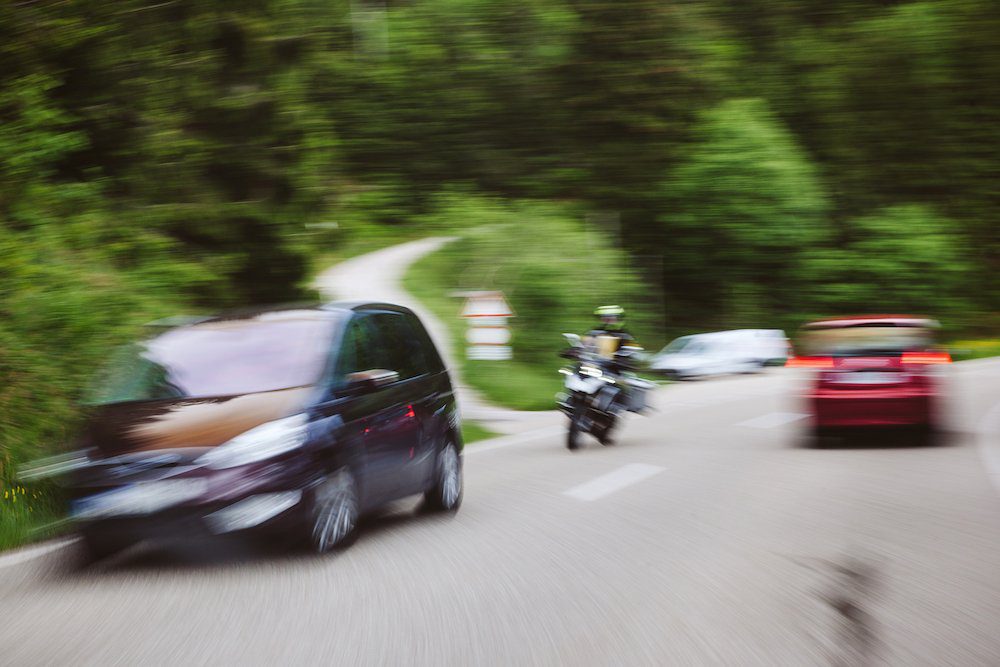 What to Do After a Motorcycle Accident in Albuquerque
Following a motorcycle wreck, it is imperative that riders and passengers know how to take the proper steps to protect their health, emotional well-being and legal rights. Specifically, motorcycle accident victims should:
Stop their bike, exchange information, and report the accident to law enforcement;
Secure evidence at the scene—including photograph and contact details for witnesses;
Get professional medical attention for any injuries;
Avoid offering a recorded statement to the insurance company; and
Consult with an experienced Albuquerque motorcycle accident lawyer.
New Mexico Motorcycle Accident Statistics
According to data provided by the New Mexico Department of Transportation, there were approximately 1,100 motorcycle crashes reported in the state in 2018. Unfortunately, motorcyclists were only able to walk away without injuries in a relatively small percentage of these accidents—nearly 900 motorcycle crashes resulted in injuries to the rider. Tragically, there were also 52 motorcycle fatalities. Although motorcycles were only involved in 2.3 percent of crashes, state officials report that they were involved in nearly 15 percent of all fatal accidents.
Common Injuries in Albuquerque Motorcycle Accidents
In any motorcycle accident, it is very easy for a motorcyclist to get seriously hurt. Even low speed or small impact collisions can cause serious personal injuries and even death. Small and light bumper taps from any vehicle, especially a tractor trailer truck, can be catastrophic for a motorcyclist. Some common motorcycle injuries include the following:
Broken bones, especially arms, legs, wrists, ankles, and ribs;
Organ damage, including ruptures and lacerations to the kidneys;
Traumatic brain injuries;
Road rash;
Deep lacerations requiring stitches or staples;
Spinal cord injuries;
Permanent scarring;
Impaling injuries;
Permanent nerve damage;
Crushing injuries, particularly being run over by a tractor trailer truck;
Emotional injuries, including anxiety and depression;
Paralysis;
Paraplegia or quadriplegia;
Wrongful death.
An Overview of Motorcycle Accident Liability in New Mexico
New Mexico is a comparative fault motor vehicle accident state. Parties will be held liable for a motorcycle accident in proportion to their blame for the collision. In other words, the person/person(s) who caused the collision through their reckless or careless conduct can be held responsible for the resulting injuries and damages. Some of the most common causes of motorcycle accidents in New Mexico include:
Speeding;
Red light/stop sign violations;
Distracted driving;
Intoxicated driving
Drivers changing lanes into a motorcycles;
Drivers making left turns in front of a bike; and
Road hazards.
Unfortunately, motorcyclists are sometimes forced to confront unfair stereotypes and perceptions from insurance adjusters after a crash. In fact, in many cases, people falsely assume that a biker is to blame for a multi-vehicle wreck—even though the other driver was the one who caused the collision. At the Caruso Law Offices, P.C., we know how to protect clients from getting stuck with an unjust share of the blame.
The Catastrophic Consequences of Albuquerque Motorcycle Accident Injuries
Because of the serious nature of most motorcycle accident injuries, there is a wide range of necessary treatment that will be required to help the victim recover. This treatment spans from emergency treatment at the scene of the accident and in the emergency room at the hospital, to surgical intervention a few days or weeks after the accident to repair broken bones, or to extended physical therapy or occupational therapy for months if not years after an accident. Some common consequences of motorcycle accident injuries include the following:
Ambulance fees;
Emergency room costs;
Remedial surgery, such as installing painful hardware to mend broken bones in the arms, wrist, leg, or ankle;
Arthroscopic surgeries to repair damage to knees or shoulders, among other places;
Weeks, months, or years of physical therapy or occupational therapy;
Becoming temporarily disabled and unable to work;
Wound care and changing;
Suture or staple removal;
Medical supplies, like crutches, wheelchair, exercise or strengthening equipment;
Nursing care and assistant care;
Medication costs;
Home visits from nurses or doctors; and
Many other types of medical expenses.
All of these treatment options can be very expensive and spend up significant amounts of your financial resources. This is why if you are injured in a motorcycle accident, you need to obtain an experienced motorcycle accident attorney to protect your rights.
How Motorcycle Accident Lawyer Mark Caruso Can Help
A former insurance company defense lawyer, Mark Caruso knows exactly how insurers operate. He uses his unique skills, experience, and background to help injured victims maximize their financial recovery. When you reach out to our office, you will speak to an Albuquerque motorcycle accident attorney who will:
Conduct a no cost, comprehensive review of your motorcycle accident case;
Investigate your crash—gathering all relevant evidence, including police reports, photographs, medical records, and more;
Handle all correspondence and settlement discussions with insurance adjusters; and
Take whatever legal action is needed to maximize your financial recovery.
We are proud to offer client-centered, fully personalized legal representation to motorcycle accident victims. While the majority of personal injury claims are resolved prior to litigation, our trial-tested New Mexico motorcycle accident attorney is prepared to take your claim as far as it needs to go to get justice.
Contact Our Albuquerque Motorcycle Accident Attorney Today
At the Caruso Law Offices, P.C., our New Mexico personal injury lawyer has the skills and experience to handle the full range of motorcycle accident claims. If you or a loved one has been injured or killed in a motorcycle collision, please contact us today by dialing (505) 369-0744 or through our website. With offices in Albuquerque and Rio Rancho, we represent motorcycle accident victims all over the region, including in Bernalillo County, Sandoval County, Santa Fe County, and Torrance County.